Product details
Product details
This is one of 5 flower stands from the Cosmo collection. In the Nabu plant stand, you place the pot with the plant inside the circle. Two solid supports ensure complete stabilization of the green constellation. We designed and manufactured the Nabu wall flower stand in Poland, or more precisely, in Silesia. We used the highest quality materials, as well as the knowledge and skills of local craftsmen. Each copy of the Nabu flower stand has its own individual number and the Bujnie logo.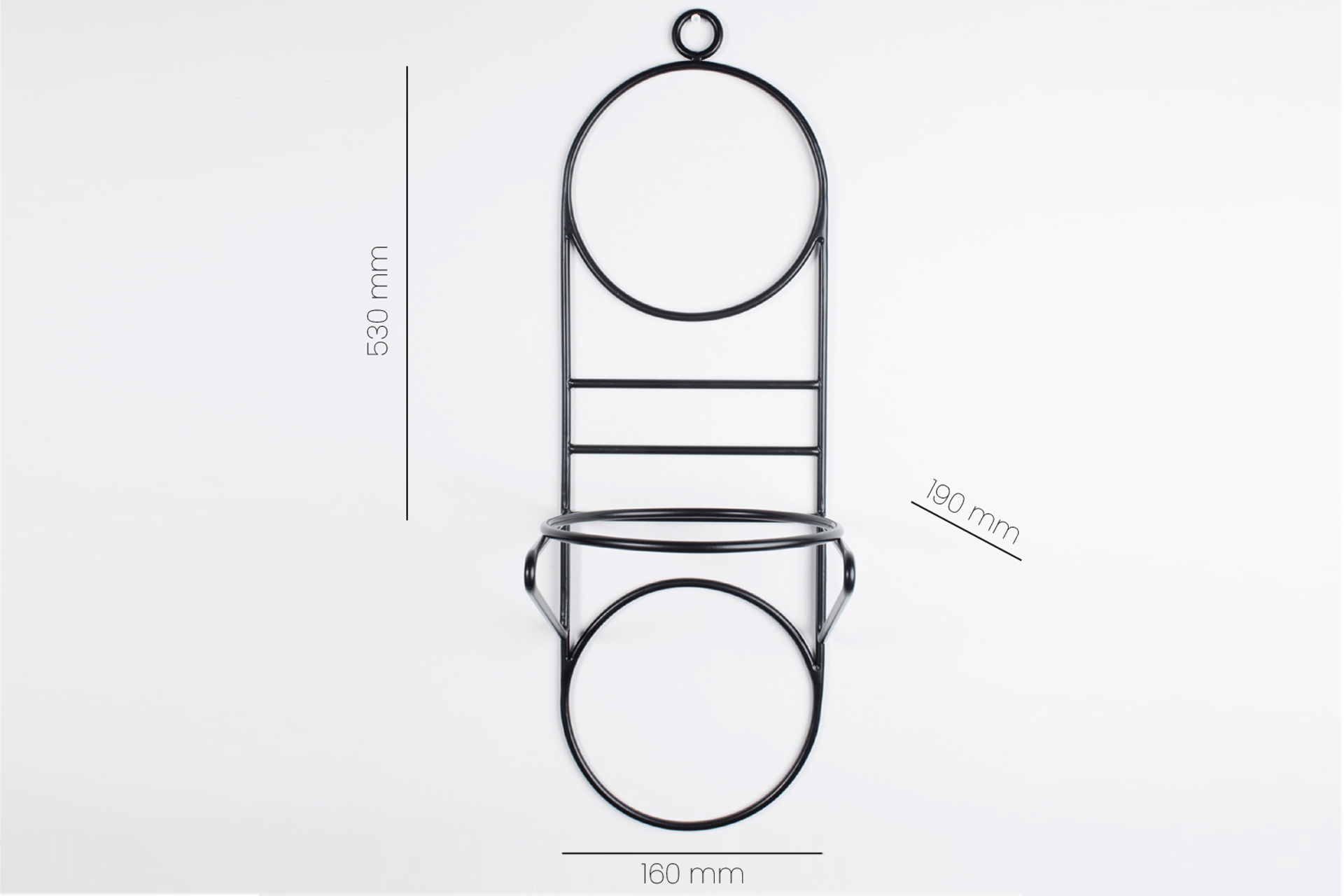 Dimensions
Dimensions
Maximum load | 7kg
Length | 530mm
Width | 160mm
Diameter of the circle under the casing | 155mm
Details
Details
possibility of selecting any color from the RA paletteL
it is possible to customize flower stands to the given dimensions
possibility of preparation for external use
made of rod, powder-coated
plant hanger perfect for flower pots and 16 cm
we put the cover inside the circle
lead time 1-2 weeks
author: Izabela Serej
ff you have any questions, please write to kontakt@bujnie.pl
Installation
Installation
INSTALLATION
The product is delivered complete. Mounted with a screw or nail to wall.
PACKING
The product is packed in a thick cardboard box to ensure safety during transport.
Shipping
Shipping
DELIVERY TIME
We stock these products in black and white colors. Delivery time is from 2 days to 2 weeks depending on availability. In the case of customization, this deadline may be extended by 7-14 days.
SHIPPING AND DELIVERY
Bujnie most often uses the services of DHL as a forwarder for this product. The service includes delivery in one package directly to your home/office, without the need to carry it up the stairs. It is possible to redirect the parcel to DHLPopUp collection points.
Hassle-free returns of non-customized flower stands within 14 days of receiving the shipment.
Downloads
Downloads
Reviews (0)
Plant hanger Nabu
From: 68.00 €
Plant hanger
Author: Izabela Serej
Nabu is a modern, hanging wall plant hanger with clean and geometric shapes. We were inspired to create it by the green planet Naboo from Star Wars. Its inhabitants had a unique view of two moons, which can also be found in the product's shape. Thanks to its light, minimalist form, the Nabu plant hanger adds character to the interior while showcasing all the plant's charms.